Simon Britnell is the latest addition to Historic Car Art's highly acclaimed artist selection.
Simon talks to Rupert Whyte of Historic Car Art about his background, influences and love of 1970's iconic designs.
RW: Your background is film visual effects – what makes you want to paint?
SB: I became a computer games artist in 1993 but prior to that I had been a freelance artist mainly painting landscapes and illustrations for publishing. Having been working on digital CGI in gaming and film industry now for 25 years I want to return with a kind of nostalgia to the pleasure of working "analogue" with paint and canvas.
RW: Why paint cars?
SB: For many working in a creative career, you rarely get to work on a subject that totally dovetails with your own interests. This has certainly been the case working as a digital 3D modeller for the majority of my career. Ultimately you are trying to capture someone else's vision within a team. Day to day, the job of being an artist is great- but to paint for oneself, why not indulge?
To create your best work therefore, I think it really helps to be passionate about the subject, the desire to understand it or capture what's great about it or how you feel about it, really comes across in a painting.
RW:
You seem in particular to love iconic vehicles of the 1970's….
SB: I really loved to make plastic construction kits (Airfix, Revell, Tamiya etc as a kid, I made lots of them. That must have perpetuated an interest in how things are built, an ambition to recreate the details, the perfection and the imperfection in real world machines. I don't know how popular kits are today in comparison, but they must have influenced me in a major positive way, and guided me towards the career I eventually followed, albeit in digital form. Fanning the flames of an appreciation for imaginary worlds in miniature were also the original Thunderbirds TV show and Star Wars, of course.
So, it was all about recreating life in miniature but as I grew up and headed to my teens you needed to be mobile in rural Nottinghamshire, so cars came to the fore. There was a buoyant custom car scene at the time, and required reading was "Street Machine" and "Custom Car" magazine, many cars featuring stunning paintwork with impressive airbrushed murals. Opinions may vary as to how tasteful this all was but at the time this was very influential to me and I became a pretty dedicated airbrush user within my own early 80s artwork, although I only once airbrushed on metal and that was to paint an Osprey on a motorbike fuel tank.
At 16, my first wheels came in the form of a yellow 1976 Yamaha FS1E-DX ("fizzy"). Electing to skip university and having no real aim regarding career, my first job out of school was a trainee car salesman at Cowies main Ford Dealer in Newark, Nottinghamshire 1982. That mainly involved greeting customers and preparation and delivery of cars. Still, it afforded me the chance to drive and be around some of the hot hatches of the day XR2, XR3, XR4i and 2.8 injection Capris. Heady stuff for a 1980s 19-year-old petrol head. I recall selling a handful of cars including a new Capri 2.0S I remember the TrimuphTR7 we couldn't shift, the Rover SD1, the Renault 5 Gordini and my Ford Cortina company car was "very yellow".
Realising I wasn't really suited to car sales I left 18 months later to pursue a career in art that evolved in the 80s but took off properly with the embryonic computer games industry in the early 90s.
Through all this, cars where an influence and a diversion. Always coveting ownership of the exotics of the day, in motorsport F1 got me hooked since the Hunt & Lauda era, rallying naturally caught my attention and during the notorious Group B era I joined the local Dukeries motor club and experienced the spectacle of the Audi quattro sport spitting flame into the Clumber Park special stage of the Lombard RAC Rally and on several national events the impressive Mk 1 & 2 Escorts. Early motorsport related paintings included some of the iconic works Group B cars of the day. 
Paradoxically, I get little pleasure from driving itself although I have been fortunate in the past to have experienced a few proper rally cars from the co-driver seat – perhaps unsurprisingly, for me it's all about the cars as objects, design icons and nostalgia.
When I'm not painting the cars on canvas it's nice to get my hands dirty with the real thing as I attempt to renovate my 1980 Fiat X1/9. The progress is rather slow but owning just a small slice of Bertone designed magic is worth the effort.
RW: What is your inspiration and influences?
SB: The cars themselves are works of art, designed by artists and technicians. I can't hope to own these cars (with the rare exception) but I can revere them, celebrate the style, and nostalgia they evoke. 
There are many great artists who have created iconic transport images that I appreciate and find inspiration in. Pointing to just a few, Roy Cross and his amazing Airfix box art, Terence Cuneo, the great railway artist and Art Fitzpatrick and Van Kaufman with their 1960s US auto brochure artwork.
RW: How would you describe your technique?
SB: With my current paintings, I am trying to emphasize the iconic lines of some popular and occasionally some left-field vehicles. Choosing impactful colour combinations based on period paint colours to create bold, statement pieces. With the cars coalescing from a complimentary textural background my hope is that the images will better integrate in a wider range of hanging situations. I am most comfortable when painting in a relatively tight realistic style but I have explored different treatments to create this series. The key car view is punchy and quite tightly rendered in contrast to the freer, abstract background. I have also played with other views of the car creating ghosts behind the focal image, partially lost in the background but supporting the composition.
Today I usually work in oil on stretched canvas with some preparatory work performed on photographs with computer manipulation to arrive at a digital "rough" to use as my guide for the piece.
The backgrounds feature paint spatter effects which are a mixture of random application, happy accident and careful aimed brushwork with masking to direct the paint to follow the intention for the piece. The paint ranges from thin oils diluted with medium and turpentine to create drips and dribbles to tightly painted opaque features. The result attempts to add dynamism to the piece and evokes the paint restoration many classic cars undergo or the original factory paint application from the paint mixers table – or indeed the humble restorers garage.
Historic Car Art publishes a selection of Simon's work as exclusive limited edition prints and offers his original paintings for sale.
Available from our store
.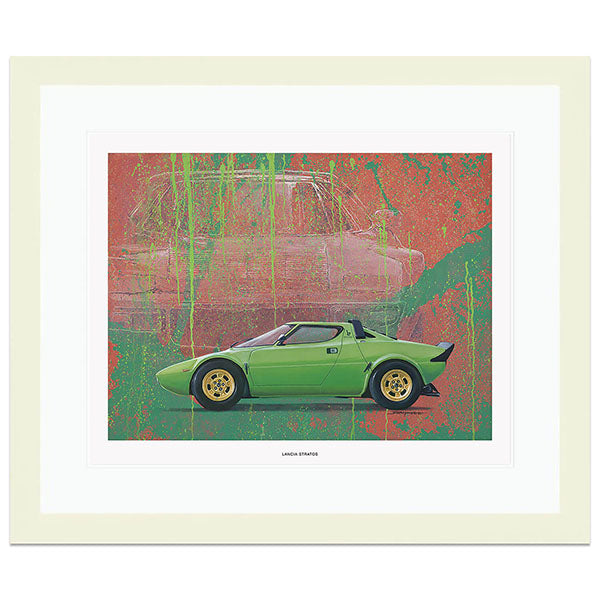 [Note: some screen ratios may distort blog images – for a true image representation view our store]